The Movement for the Emancipation of the Niger Delta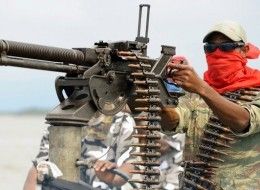 (MEND), Nigeria's leading militant group on Sunday announced an indefinite ceasefire in the oil-producing Niger Delta to allow for peace talks with the government.
MEND, said the government expressed a readiness last week to engage in serious talks to address their concerns.
"To encourage the process of dialogue … an indefinite ceasefire has been ordered and takes effect from 0000 hours, Sunday, Oct. 25," the group said in a statement.
The militant group, lifted a three-month-old ceasefire this month and threatened to resume its campaign of violence against the OPEC  member.
But MEND has been severely weakened since its leaders and thousands of gunmen accepted President Umaru Yar'Adua's amnesty offer and disarmed.
President Yar'Adua this month offered to allocate 10 percent of Nigeria's oil joint ventures to Niger Delta
residents
Details of the initiative is yet to be worked out in by Nigeria's National Assembly